HOLY BOUNCING BOOBIES! A Batman Burlesque
Riddle me this: What pastied production goes bounce in the night?
Answer: "Holy Bouncing Boobies! A Batman Burlesque!"


In this campy, sexy and silly show, Batman and Robin are put to the ultimate test of intellect when they learn that Batgirl has been captured by the reprehensible Riddler! Now the Dynamic Duo must travel through the streets of Gotham to retrieve the Riddler's clues from all of Batman's enemies before midnight. Join the Caped Crusaders on this quest, featuring sultry burlesque numbers and a full roster of vile villains (including Catwoman, Two-Face, The Penguin, and even Egghead!) Ages 18 and over only. Duration: approximately 60 minutes.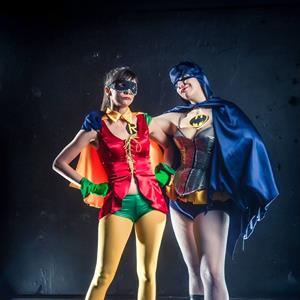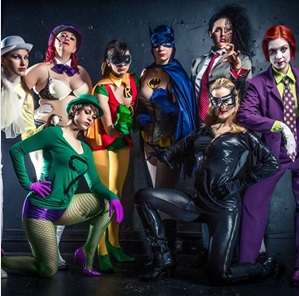 "There's no better use of your time, money, and airline miles than getting out to see this thing at least once. A rich, pop-geek-friendly comedy show."
-KickingtheSeat.com

"This isn't Shakespeare, and it isn't a strip club. But it is a barrel of sexy fun! I laughed. I laughed some more. I drank beer. I laughed even more. And I saw lots of boobies. As good as Christopher Nolan's latest Batman installment is, this show made a far more memorable evening. Enthusiastic thumbs up!"
-Ray's Chicago Area Burlesque

"A genuine good night out and a hilarious storyline to follow; complete with colorful costumes, awesome props like a handmade Batmobile, human penguins and killer sexy dance moves. It was ridiculous in the best way possible."
-Skokie Patch

Directed by Kaitlin Fleharty
Choreographed by Hazel Hellbender, Crystal Paradise, and Kaitlin Fleharty
Written by Jeremy M. Eden (3G1R, EEK! Theatre)
Costumes by Kristen Ahern
Produced by Gorilla Tango Burlesque

BRINGING A LARGE GROUP? Special group pricing available for groups of 8 or more. Use discount code GROUP2015 to receive $22 tickets - online purchases only. Additional restrictions apply: you MUST purchase all tickets in a single purchase, no add-ons, exchanges, or refunds possible. Cannot be used retroactively.


Show Rating - R
Show Type -