A Nude Hope: A Star Wars Burlesque
A long time ago...in a galaxy...far...far...away...in a discotheque...circa 1977...

A sexually frustrated farmer, Luke Skywalker, is longing to rescue the luscious Princess Leia, prisoner of the sadomasochistic villain, Darth Vader. They'll need some help along the way from a few malfunctioning droids, a rouge she-hunk named Han Solo and a Wookie companion (who never wears pants!) to rescue her heiney-ness. Of course, along to guide them is the senile but sensual Obi-Wan-Kenobi. Join this motley crew of geek girls as they take you on a burlesque parody journey of bad haircuts, oddly sexy aliens, cheap special effects, and disco grooves. Don't make us FORCE you to come!

Help us Star Wars geeks/burlesque lovers... you're our only hope...for partial nudity. Ages 18 and over only. Duration: approximately 60 minutes.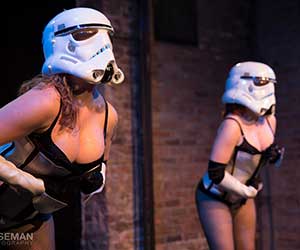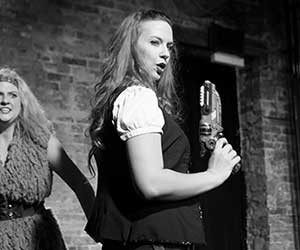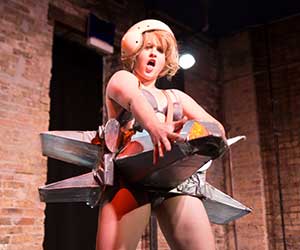 "CHICAGO READER PICK! "More suggestive than raunchy and as concerned with laughs and novelty as with titallation..."
Chicago Reader

"Utterly amazing... If you are a Star Wars lover in the Chicagoland area, this is a must-see."
Gamerfront

"For a production that rests somewhere between a comedy routine, a burlesque show, a disco revival, and a sci-fi film, 'A Nude Hope' is as unique as it is enjoyable."
The Chicagoist

Directed by Timothy Bambara
Written by M.C. Curran
Choreographed by Rachel Singer
Costume Design by Erica Hohn and Kristen Ahern
Produced by Gorilla Tango Burlesque.

BRINGING A LARGE GROUP? Special group pricing available for groups of 8 or more. Use discount code GROUP2017 to receive $22 tickets - online purchases only. Additional restrictions apply: you MUST purchase all tickets in a single purchase, no add-ons, exchanges, or refunds possible. Cannot be used retroactively.


Show Rating - R
Show Type -