Oh-a-YES! After performing for over four years in Chicago, Gorilla Tango Theatre's hilarious romp through the Mario Bros. video games past and present, BOOBS AND GOOMBAS: A SUPER MARIO BURLESQUE, is coming to Los Angeles! Performing on Fridays and Saturdays at 9pm & 10:30pm, April 10 - May 16, 2015, at THE COMPLEX (6476 Santa Monica Boulevard, Hollywood, California 90038). 18 and over only.

Mario and Luigi have become so perpetually frustrated by their endless pursuit of the Princess that everything they see has started to look like a beautiful, sexy woman-- even their most dangerous enemies! This sexy burlesque romp is a send-up of the famous Mario Bros. video games. Join us to discover whether the world's most adventurous plumbers will finally rescue the Princess and consummate years of amorous toil, or be seduced along the way by their alluring enemies. Don't forget to bring a few "coins" (or dollars) for tips... If the cast collects enough coins along the way, the audience will unlock the alternate ending!!!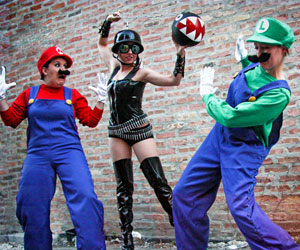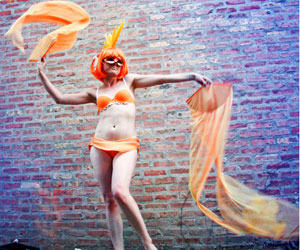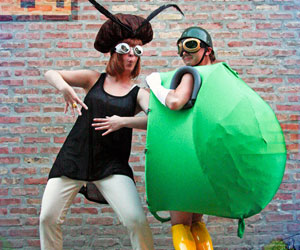 "RECOMMENDED. The striptease gimmick may draw audiences in, but the jokes and the comedic timing of the actresses keep them coming back."
Zach Freeman, New City

"DO NOT MISS. A late-night delight... a smart, funny deconstruction of the whole Mario Bros. franchise, plus dancing girls."
J. Scott Hill, Chicago Stage Review

"A fantastic show...Boobs and Goombas is titillating but, more importantly, it's hilarious!"
Katie Donbavand, Gapers Block

"This is a show any gamer or non gamer (ladies and gents) would not want to miss."
-Female Gamers Alliance

"See this production as if your life depended on it."
-Gamerfront
Other

Shows!
A Nude Hope: A Star Wars Burlesque
Dirty Disney: A Burlesque Cabaret
Game of Thongs: A Game of Thrones Burlesque
Spooky Boobs!: A Gorilla Tango Burlesque Cabaret
Stranger Thongs: A Stranger Things Burlesque