TEMPLE OF BOOBS: An Indiana Jones Burlesque
| | |
| --- | --- |
| Our heroes, Indiana Jones and his lovely companion Shortround, find themselves in stuck in a foreign land where the sacred statue of the village goddess has been stolen by High Priestess Pincha Nippol and her creepy cohort Mola Ram. The villagers refuse to work, eat or even dress in solidarity with their disgraced goddess. Even more scandalous it's rumored that Pincha Nippol has been stealing villagers in the night and forcing them to bump, grind and shimmy to power her evil rituals. Can Indiana Jones recover the statue and save the villagers? Will Pincha Nippol force Indiana to drink the poison of Boobie-Ma? Will Shortround strip? Only the Geek Girls will reveal all… Ages 18 and over only. Duration: approximately 60 minutes. | |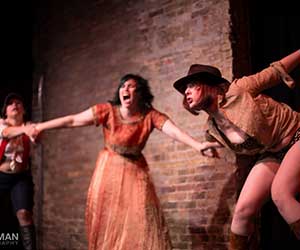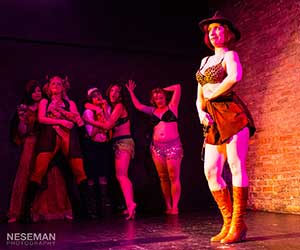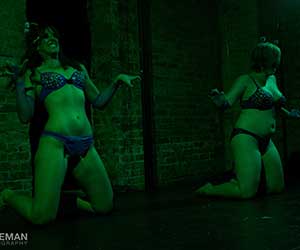 "The script is great and the girls are hilarious, delivering campy slapstick with than a little Carol Burnett and even more booby."
-Chicago Nerd Social Club
"Wow! What a great freaking show!"
-Wicker Park Pipeline
"Gorilla Tango Theatre has taken burlesque to an all new level with these enjoyable parodies of geek fancy."
-Lumino Magazine
"Fun, witty, racy show with plenty of laugh-out-loud moments and sexy ladies to boot."
-Chicago Nerd Social Club
Written by Amy Whittenberger.
Produced by Gorilla Tango Burlesque.
BRINGING A LARGE GROUP?
Special group pricing available for groups of 8 or more. Use discount code GROUP2014 to receive $22 tickets - online purchases only. Additional restrictions apply: you MUST purchase all tickets in a single purchase, no add-ons, exchanges, or refunds possible. Cannot be used retroactively.
Show Rating - R
Show Type -

Gorilla Tango Theatre Chicago[Bucktown]
1919 N. Milwaukee Ave.
Chicago, IL 60647
773-598-4549